Cutting-edge group, Innovation Core Partner for private companies and public administration, in the IT, TLC and Systems Engineering areas
IT CENTRIC was born in Caserta in 2014 from the idea of two engineers from Campania, Fabio Orsini and Luigi Diana, and has been structured over the years as an innovative System Integrator that operates mainly in the areas of Information Technology, Telecommunications and Engineering of Systems. An articulated offer system, with a strong focus on consulting and system integration services, and a series of vertical solutions, allow us to offer skills and solutions in the telecommunications, media, industry, distribution, energy sectors. Through a team of specialists in various market sectors and technological fields, the company is able to follow its customers in the innovation of technological processes and in the creation of value from IT services.
Over the years IT Centric has incubated new businesses for specific IT sectors. The latest addition is Bit Rulers (aka BiRu), an innovative startup dedicated to the study and development of new technologies in areas such as DevOps, Big-Data, Artificial Intelligence, IoT, Industrial IoT, and in general  evelopment of innovative software applied to complex projects. The group, constantly growth, aims to evolve into various Lines of Business, in fact from 2020 it is activates a new Line of  usiness that addresses in an exclusive way the innovation of SMEs in the Center-South, with a dedicated structure for support to Customer Operations, so as to allow a process of constant innovation, supported by industry experts. IT Centric, together to investee companies, it covers the entire national territory with  perational offices, laboratories and Data Centers distributed in the Caserta and Rome offices, in addition to resident personnel between Caserta, Rome and Milan. Some Business Lines operate abroad on projects that design in Italy e implementation in countries such as the Middle East, Brazil, USA, Algeria and Kazakhstan. IT Centric has cultivated partnerships with several multinationals over the years of the sector and together with them it found itself operating on the market for many international companies of Energy & Utilities and Oil & Gas. For IT centers the System Integrator is increasingly the link between the real world and the digital one, able to simplify processes through a mix of technologies, procedure and common sense.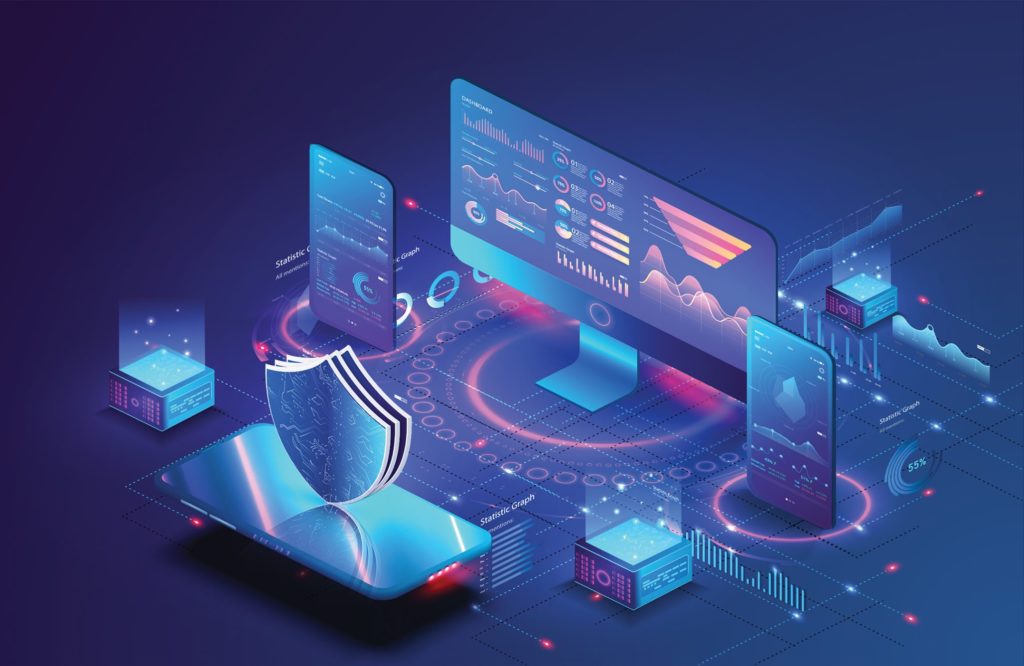 CYBER-SECURITY AND INDUSTRY 4.0
The main sectors of the moment are Cyber-Security and Industry 4.0 for ITC. Cyber Security plays a transversal role in all business processes and technological infrastructures. Having consolidated multiple experiencesin this area, it aims to offer integrated solutions tailored to the size of the organization and potential risks. In Industry 4.0 IT Centric has developed multiple integrations between the OT and IT worlds, so as to be able to take full advantage of both by circumventing the old compartmentalized silos approach. Furthermore, experiments are active together with large customers relating to SCADA Security for the safety of industrial infrastructures susceptible to potentially disastrous attacks.
IT Centric is a competence center, a group made up of specialists who, through a process of integration and osmosis, look at a problem to be solved from different perspectives and angles. Innovative research and continuous study are key and essential elements of the organization. In recent years, excluding the numerous technological partnerships that have involved the study and achievement of professional certifications, IT Centric has invested internally in market analysis, prototyping and development of algorithms and software in the field of Physical Security, Big Data and advanced correlation systems. . According to IT Centric, the transformations brought about by the pandemic will not have a temporary effect, but will fuel the demand for new solutions and new services. For this reason, new services and solutions in the Collaboration and Security field have been added to the offer portfolio, in order to enable public and private companies to work efficiently and safely also using the new induced paradigms.